Life is rich. Not simple, no, not by a long shot. But it is rich.
At the end of our last post we put out a plea for funds – thank you so very much to those of you who were able to donate to the coffers or buy prints or books or calendars: your help has kept us afloat in difficult times… We are so grateful, and very aware of what a privileged position we're in to be able to draw on such support.
We left you there a few weeks ago waiting for word from the lorry garage that our 1966 Bedford RL was ready for collection, having been fitted with two new front brake cylinders, a freshly-welded exhaust manifold and a bevy of adjustments, fine and crude, to the engine running…
Well. We didn't have much longer to wait. Our return to the truck that Tuesday was joyous – seeing it there on the industrial estate, Puck pointed and made the 'brrrrrr' engine sound that means 'truck', and after a look over it and a brief heart-stopping episode when we got the bill, we were off again. To travel in it is to move in a bubble of smiles, pointing fingers and open mouths – I'm sure not everyone's overjoyed by it, though I try to let folk past as often as I can, but we've not had anything but admiration and delight directed our way since we put wheel to road all those long weeks ago. Actually, it's just over two months, but time in road-life is dense and rich with experience in ways that are hard to describe.
Now, the journey since then has not been smooth – if you've been keeping up on facebook, you'll know some of the tale already, but it's been a time of backfires and stalls and breakdowns and constant plan-changing. It's not all woe and gloom, however, gentle reader, so don't despair yet! But, also yes, there are some steep hills coming, so fortify yourself!
We journeyed up from Bovey Tracy to just outside Moretonhampstead again, thinking to take care of a few things before turning East for the open road and a rendezvous with some signwriters… All went well until we came to some of the serious hills on that road – we sputtered and backfired and frequently ground to a halt, with our joy seeping out like air from a tyre, and anxiety about the truck rising like a temperature gauge… We made it to the edge of Mardon Down, albeit sometimes at a crawl, and thanked our stars that we were at least back in the truck, even if we were now broke and seemingly on the lip of being broken down again…
It was a beautiful spot, and we were delighted by the appreciation of local farmers and owners of the Common on which we were parked, who made us feel most welcome, if a little perplexed and gallows-humour-amused at the notion of owners of Commons… We had visitors a-plenty and also discovered that we'd lost half of one of our facing boards on the journey, our first casualty from overhanging trees… Somewhere on the Chudleigh to Dunsford road, there's a little piece of Hedgespoken… I didn't even hear it come off. You can see the missing section in the top-left of this picture.
Devon Longhorn cattle surrounded us – cuckoos and skylarks by day turned to owls at night. It was good to be home. We stayed for a few days, and then we were off again, via a quick visit to Chagford and then to Whiddon Down, for fuel, and then east.
Ah, Whiddon Down – how you will live differently in our memories now!
We really had a terrible time a few weeks ago in Whiddon Down. As we left the service station, the engine sputtered and backfired and died, and no amount of coaxing and choking and not-choking and throttling and non-throttling could get it started again. We sat in the road and put out our red triangle and waited for rescue, again. Our spirits, raised by a relatively smooth journey from Mardon to Whiddon, began to sink again as the rain started and the light began to fade.
Several hours and a jump-start later, we abandoned our plans to travel East and made – very slowly – for the safety of a nearby lay-by.
This lay-by became our home for the next few days – our attempts to move the truck came to nothing and, with the help of our friendly neighbour Ant from the goat farm across the road, quickly came to realise that the dynamo wasn't working. There are far worse lay-bys to be stuck in than this one on the edge of Dartmoor, but still the boy-racers screamed past in the early hours of the weekend, and while we adapted once again to changing plans and were still glowing from being back in our home, our home wasn't really where we wanted it to be… But, this road is full of reminders already, and this one keenly so – we have to regard our plans as gestures in the direction of our intentions, and accept that things may not happen when or where we might choose. Urgency is not our best ally in this life!
On Monday, Leo came by and – in true Leo fashion – had the dynamo off and fixed barely before we had time to boil the kettle. The man is a hero. Here you can see the stuck brushes that were at the root of it all…
With the dynamo fixed, we travelled on the next day just a few miles, to the farm of nearby friends where we could once again gather our wits and decide on the next steps…
We basked in the early summer wonder, explored nearby woods and enjoyed almost a week of quiet and beauty on the edge of the moor – an enforced holiday that we hadn't expected. Our plans, already in tatters, blew away like mist or threads of some imaginary web.
During that week, we realised that an unexpected benefit of not being in East Anglia was that we could go along to the Hedge-u-cation camp that's been held for the last three years just a few miles north of Okehampton. We went last year, for a day, when Puck was very small, and knew that if we could take Hedgespoken to it, we'd feel very much at home.
And so we did. It was a wonderful week – it was great just to be in a place we were meant to be, doing what we do. We had the stall out, as you can see, and with Rima providing accordion support, I told stories from the stage every day – a different one for each of the seven days. I was particularly pleased to have a crew of feral little'uns at the front of the crowd chanting BABA YAGA! BABA YAGA! I'm not shy of saying that it was a delight to have them appreciating the best character of all – I'm not really one for 'kid's storytelling' as such: I tell stories to audiences that sometimes have children in and I don't cut out the grim bits, but I don't think too many children were scarred for long in the course of the week… For those who are interested, I told: The Firebird and the Hunter, Mossycoat, Maria Morevna, How Fox Stole Fire, The Three Nincompoops, The Clay Man and the Golden-Antlered Reindeer, and Little Ivan – Bear Child… Questions still to be answered include: What happened to the Firebird? How can Baba Yaga die? and Why is The Clay Man so disappointingly brief?
Next to us for most of the week was the ever-busy lo-fi tannery stall of Scott from The Rewild Project, a friend well-met.
We were delighted to come across some of Rima's work reproduced as a huge banner in the main tent! This is Rise and Root, the story of which you can read over here.
Little hands delighted in sand and earth and chalk, and our hearts were gladdened to see Puck have a multitude of new friends to play with all week. The care of each other taken by the kids at Hedge-u-cation was a joy to see. For one blessed week, to live in a reasonably functioning community, in a series of fields, with earthy folk and constant sunshine – it's hard to ask for more.
There are more (amazing) photos of the week by the very-talented Jean Cullen on facebook here, if you do that kind of thing. They're extraordinary and – yes – the sun did shine all week! We made many new friends, caught up with old ones, had the RL admired and learned much about the pros and cons of swapping out the Bedford 300 petrol engine for a 330 diesel…
And then what? That was almost two weeks ago as I write these words. Re-reading what I've written, much of it seems like a litany of our breakdowns and repairs and, in truth, the course of our love affair with this unfolding road has not been smooth. We're currently in a field not a million miles from Hedge-u-cation, thanks to the kindness of friends, again, tweaking and fixing and trying to fathom the workings of this glorious old beast of a truck to which we've tied our fate. It's another paradise, with views (on a clear day) of Yes Tor and the usurper High Willhays and fields and forest even in the ever-gathering mizzle and rain of this solstice time.
The account of our time runs the risk of turning into a guide to fixing Bedford RLs. There's so much more to our life than this. I'm learning new stories all the time, in preparation for storytellings along the way; we're putting together the plans for our first 'proper' show to be staged in the Autumn, including meeting with puppeteers and puppet-makers and all sorts of other exciting shenanigans that I'm not allowed to tell you about; most of all, we're constantly immersed in the world of parenting our boy, almost 16 months now and tottering through his first steps and words and fascinations with drills and screwdrivers and belly-buttons. Dealing with mechanical breakdowns with a 16 month old is both harder and easier – as well as the obvious challenges, he delights in it all as a great adventure and (perhaps) some of that rubs off on us.
Our plans for the summer are constantly being revised and our current main concern is to road-test the new repairs and improvements to make sure that we can undertake some longer journeys with confidence. We'll see. We're still planning to go and get our signwriting done, but our next booking is at the Green Gathering in August – by hook or by crook, the truck will be there. As ever, funds are low and we need to get on the road to ply our stall-craft and storytelling, but we're scraping by, mostly thanks to frugal living and your help!
With that, enough. The rain is pouring down this evening, but the truck is warm and dry and we're looking forward to the road again. If you see us stopped somewhere, knock on the door and say hello – we rarely bite and the kettle's usually on.
For now, from our position right by the burgeoning hedge of June, safe travels, all.
Tom, Rima and Puck.
---
Just a reminder – it's still not too late to claim some of the perks from our crowdfunding campaign and Rima's new piece – AT THE WHEELWRIGHT'S – is available as a print from her etsy shop: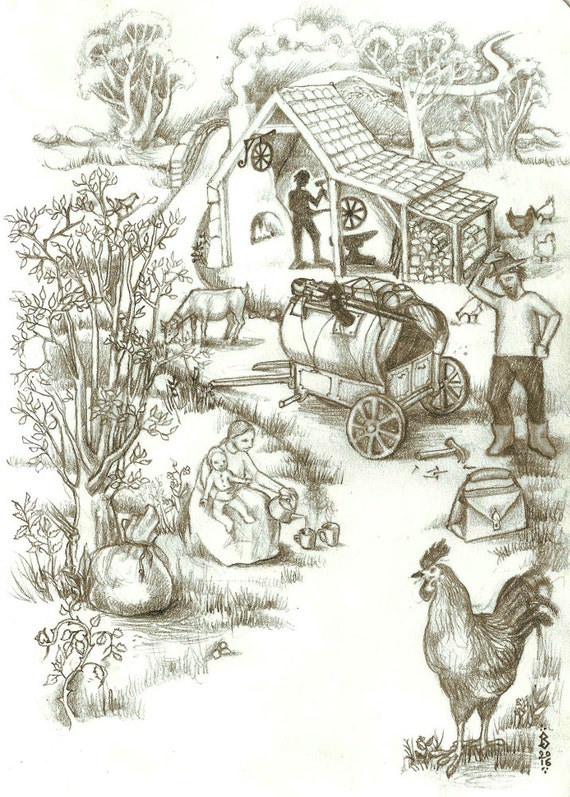 The original of this is also for sale, reduced now to £120 – you can see that here.
And, we're still, of course, selling Sometimes a Wild God and The Wayfarer's Year over in the Hedgespoken Press shop. You can also donate to the cause here – any pennies in our showman's hat are always very gratefully received. Thank you all for reading this far and for keeping the faith! Hedgespoken rolls along, just very, very slowly! And no, 'Puck' isn't our boy's real name – that's between you and us and the song of the bubbling brook…

Save