To live on the road is to inhabit a liminal space, to exist in the strange thresholds between the various worlds of our culture. Sometimes, this is a magical, rich place of potent possibility; other times, it's an uncomfortable zone, full of reminders that you are neither one thing nor another.
This is Hedgespoken outside the garage on the outskirts of Bovey Tracy last Monday morning, shortly before we walked away through an industrial estate – a place where humans are expected to be in cars or lorries or forklift trucks – into the nearby town to gether our wits and our energy before making our next move. Industrial estates are not places to be frequented by humans-on-foot – especially ones with a boy in a buggy and a few clothes stuffed quickly into bags and carried in the hot sun. But, we found lanes we never knew and showed our boy the wayside plants and held on to the dream of tea at the other end and finally made it to the Devon Craft Guild where we ragamuffined the place and lowered the average age by several decades and the boy (who I'll call Puck from now on here, as I can't keep calling him 'the boy') charmed all around him with his tottering and grinning and gurning until we were rescued by friends.
If you were out and about on Dartmoor over the weekend of the 7th and 8th, you may have seen us at Hay Tor. It's not a spot we would have chosen in normal circumstances, as it's one of the busiest places on the moor, but we limped there on the Thursday after we'd missed our slot at the garage. Why did we miss our slot? Because we broke down on the way, stalling just before a narrow bridge and not being able to restart. In a mobile phone signal black spot, we knocked at doors to no avail, until a passing driver (who turned out to be one of my old acupuncture patients, and who recognised the truck) conveyed a message to the ever-patient, ever-heroic Leo who drove out from Exeter to give us support.
The past days have a long story woven in them, but the short story is that a planned service has turned into a week in the garage and a frantic search for two new front brake cylinders (thanks to Brian in Dorset for keeping some on his workshop shelf and letting us know) and then a 7 hour round trip to collect them on Thursday. The other tale is one of enforced letting go – we'd so hoped to be at Weird and Wonderful Wood, the fair in Suffolk we've been going to for years and which had become something of a guiding star on our ever-changing timetable over the last year or so. It became clear quite quickly that we weren't going to make it, but we held on to it for as long as we could before surrendering to the stream – in this case the stream has given us a week-long unexpected holiday near Widecombe-in-the-moor in this beautiful late Spring, thanks to our friends Annie and Robin and their massively appreciated help in putting us up for a week and rescuing us when we needed it most. We've had time to breathe out a little and walk in the bluebells, listen to the cuckoos and spend time with Puck and their own fiercely feral and gorgeous kids.
Hay Tor – which seems like a long time ago already – saw us glad to be parked up and yet anxiously awaiting our return to the garage on Monday morning. It was one of the most glorious-weathered weekends yet of the year and during the day we were cheered by an almost constant stream of admirers, who were unanimous in declaring Hedgespoken one of the gladdest sights they'd seen in a long while. We heard more cuckoos than we could count and curlews and restless horses who came to rub against the truck at two in the morning. Passing friends dropped in for tea and on Saturday we even put out some of Rima's work and a few copies of Sometimes a Wild God – we made a few sales, too, but mostly saw it as a practice run. I also took the time on Friday and Saturday to secure the belly-boxes and paint our solar-panel-covering-boards which will soon be signwritten to advertise our wares and services and the date of our next show, as well as providing some reading matter for the folk stuck behind us on the road…
Now, on Tuesday 17th May, we await news. Sometime in the next few days, we should get the all-clear to return to the road, and be able to move back into our home. We miss it keenly, as you might imagine, and are hungry for the life we've chosen…
This enforced in-between, though, has been rich with teaching for me. There are so many unknowns in this life, and some of them are so huge, that to approach plans as anything other than intentions seems foolhardy. We're keeping a diary now so that we can remember everything that's happening in this fertile time. Tomorrow, and next week, will inevitably bring new challenges and joys and discomforts – I can't do anything about them now: all I can do is look at today, and this hour, and marvel. The purslane is out; the wood sorrel is out; the buzzards and the ravens and the curlews and the cuckoos are calling. The bubbling, babbling West Weburn river is loud and sweet; Puck is taking his first steps with a grin and a swagger and his heart is sweet as sunshine. Rima and I are able to walk in the woods, catch up with friends and adjust our plans to take in the new configuration, catch glimpses of the future, too…
We are also laying the foundations for our first 'proper' shows later in the year. Our lips are sewn shut and rose-laced with secrecy, but it's a very exciting time. Soon, we'll let you in on more of the progress on that front, but just know that we're assembling our players and creative team to produce something of extraordinary wonder later in the year. We're also working on a new book to put out this year… Those of you who pledged to support us by securing an invitation to the Hedgemoot debut performance will be hearing more as soon as we know it.
It's still not too late to claim that and other perks – we're facing a major garage bill now, and have lost the substantial boost that we'd have got from selling at Weird and Wonderful Wood.
Rima's just this morning finished a new piece – AT THE WHEELWRIGHT'S – which you can buy as a print from her etsy shop: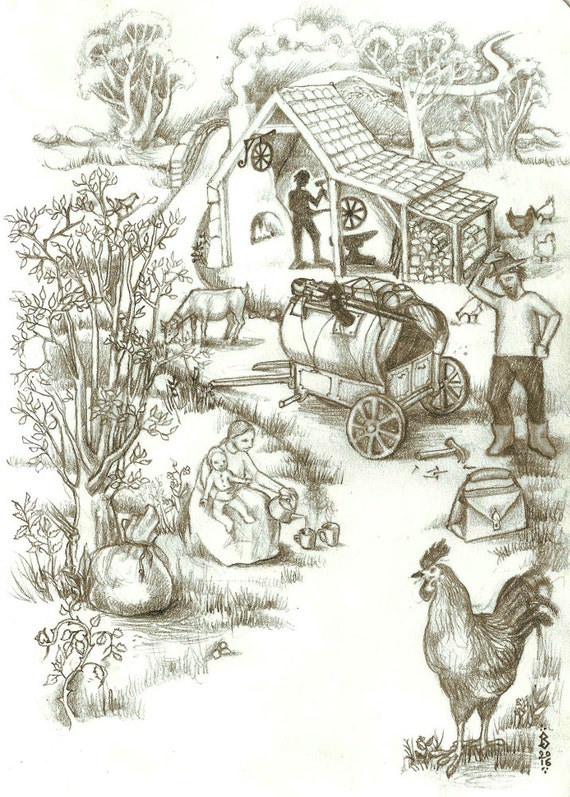 The original of this is also for sale at £250 – you can see that here.
And, we're still, of course, selling Sometimes a Wild God and The Wayfarer's Year over in the Hedgespoken Press shop. You can also donate to the cause here – any pennies are always gratefully received.
We're running on almost empty as we begin this adventure, which means we have no safety net, so please support us if you can.
In the meantime, we hope to be on the road again very soon – the summer is beckoning and we're itching to be learning how to manage this life with Puck and the truck and the fairs and lanes and friends and strangers all. If you have good ideas about where would be good for us to take the truck, whether as a travelling stage or as an example of something splendid and off-grid or as a stall with our work, do please leave word. The way is open – we'll see you soon along the road…